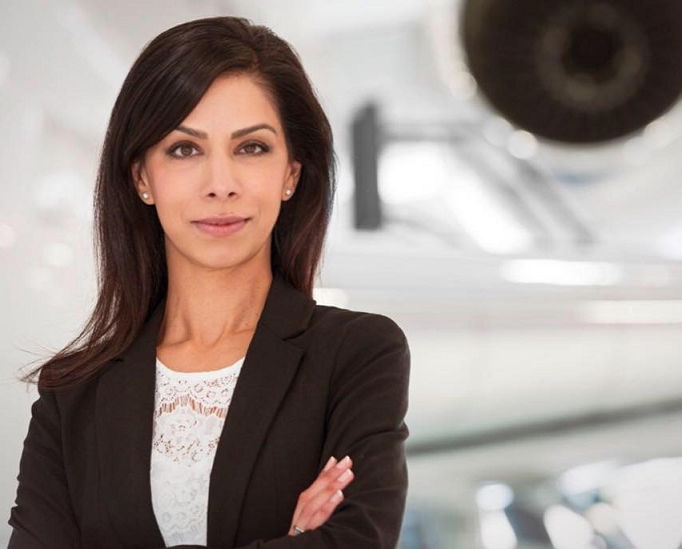 Sajedah is an accomplished executive with strategy, business transformation and operational excellence across Aerospace, Technology, HR, and Marketing domains including product design, sales, operational delivery, supply chain and customer experience.
With twenty years in both commercial and business aviation, Sajedah was responsible for the design and management of the Bombardier Q400, CRJ and CSeries cost-by-hour solutions, as well as component reliability, asset management and supply chain across all commercial aircraft programs.
Sajedah went on to manage strategy and business development for parts and material services at Bombardier, delivering significant growth, cost optimization and increased customer satisfaction.
She later moved into business aviation and was Chief Transformation Officer (CTO) for the Global Express, Challenger, and Learjet aftermarket, delivering double-digit growth with enhanced sales, delivery efficiency and heightened customer experience. Whilst CTO, she delivered extensive new products and services to the business aviation aftermarket, including cost-by-hour, teardown, and leasing solutions, product modifications and upgrades, to meet broad and diverse customer needs.
Sajedah then became Chief Executive Officer & Board Director at AJW Technique, AJW's renowned global maintenance business, where she led strategy and business development, product, and services innovation, whilst ensuring flawless execution and customer response across all service centres. She successfully restructured for longevity during the pandemic, optimizing the complete business structure and value proposition. She won the honour of being one of Canada's Top 100 Employers in Aerospace in 2020.
Sajedah is an active Women in Aerospace Board Director, keen investor, and transformation coach to executives and companies across multiple industries. She is an avid promoter of emerging and established talent globally with her Lead to Learn programs, that enable leaders to thrive by developing their own critical skills and creating an ethos that centres on people via culture, productivity via personal and team development, profit via strategic and operational excellence.
She supports Dreams take Flight, Move for Life, Forever2Six, Make a Wish Foundation, Baroque Orchestra, Quebec Girls Baseball League and other charity, sport, art, and youth programs.
She is fluent in English and French, holds a Bachelor and Masters degree from the University of London with Six Sigma, Lean Management, Agile and Business Process Engineering certifications.
Sajedah has a passion for family, her three girls, as well as a love of art, travel, food, scuba, and kick-boxing – a firm believer that the only path to success and fulfillment is to engage mind-body-soul.