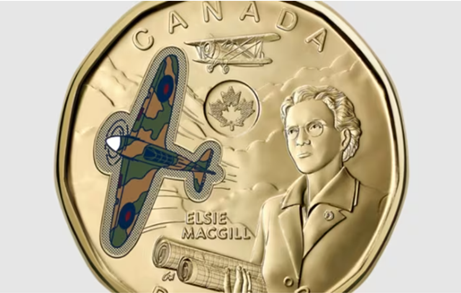 Commemorating a Trailblazer Submitted by Eva Martinez
Last month, the Royal Canadian Mint released a commemorative loonie honouring Elsie MacGill – a pioneering aeronautical engineer and women's rights activist who redefined what was possible for women in Canada. As reported by the CBC's Emily Fagan, Elsie was:
"the first Canadian woman to graduate with a bachelor's in electrical engineering in 1927, the first woman in North America to graduate with a master's in aeronautical engineering in 1929, and the first Canadian woman to practise as an engineer in 1938. In 1929, she contracted polio. Although MacGill was told by doctors that she would never walk again, she regained mobility with the use of two canes and continued her pursuit of a career in aeronautics. She accepted the role of chief engineer at the Canadian Car and Foundry, where she designed the Maple Leaf II biplane. During the Second World War, she pioneered a new, modular construction system that allowed the factory to produce over 1,450 Hawker Hurricane aircraft — a feat that led to MacGill being celebrated in a comic book story, Queen of the Hurricanes."
The coin, designed by Victoria-based artist Claire Watson, shows MacGill wearing her iron ring and the two aircraft she is famous for. An inspiration to all, her exemplary desire to uplift others was driven by her unrelenting belief that we can all soar higher. The Royal Canadian Mint's tribute states that Elsie (1905-1980) was:
"a person of brilliant mind and unconquerable spirit. A woman of many firsts, she led  trailblazing career in aeronautical engineering and was a passionate and effective advocate for gender equality in the workplace and beyond. Although her path wasn't the easiest route to take, Elsie always persevered and demonstrated excellence despite adversity. Not one to let setbacks affect her trajectory, Elise shot for the stars and elevated others along the way, making her one of the most exceptional and noteworthy Canadians of the 20th century."
Elsie is also the inspiration behind the Northern Lights Aero Foundation annual award which recognizes and celebrates Canadian women who have made significant contributions in aviation and aerospace. This year's gala will take place Saturday October 21, 2023 at the Pearson Convention Centre in Brampton. Tickets and sponsorship opportunities are available here. Early bird pricing ends September 1 so don't delay! Women in Aerospace Canada looks forward to seeing you there!