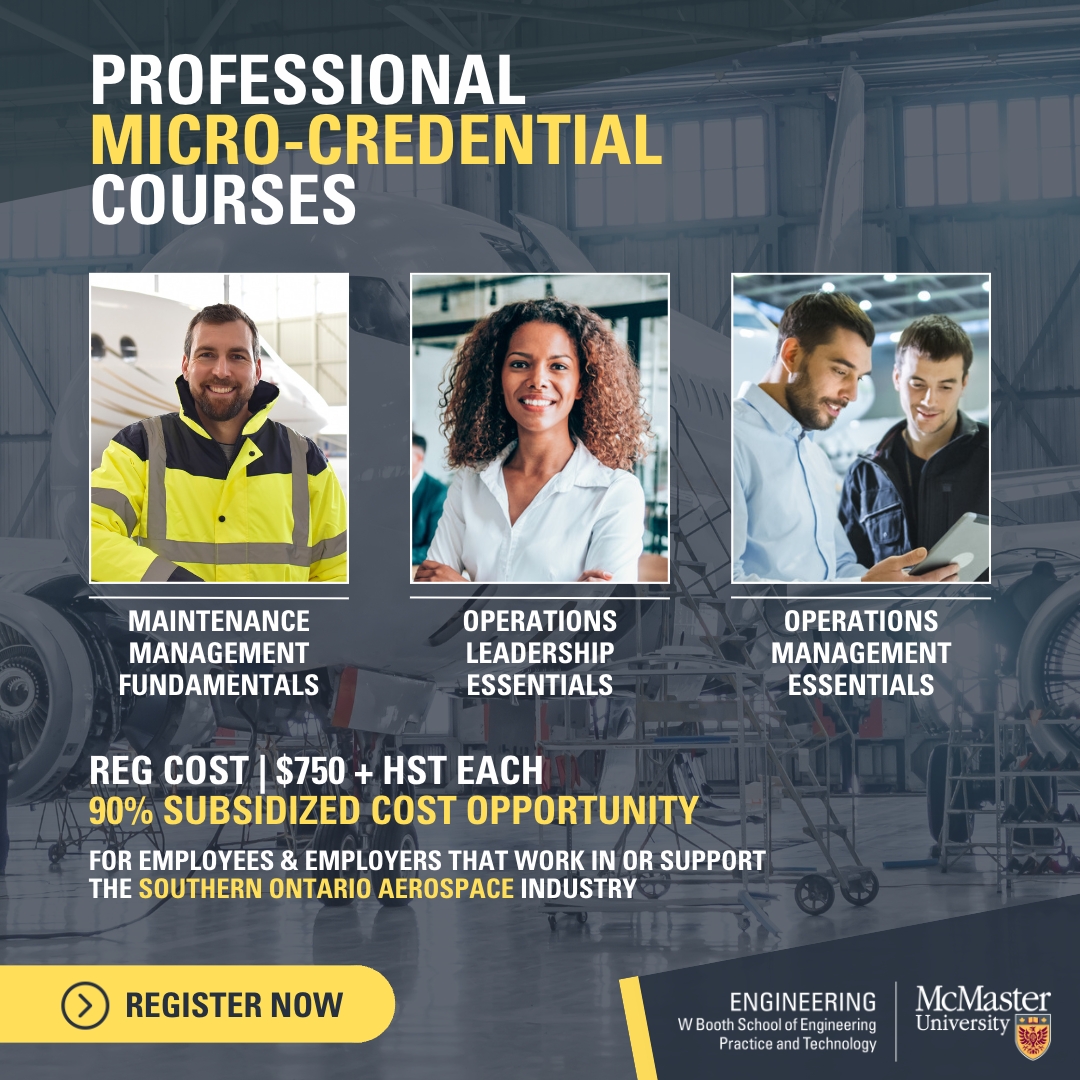 McMaster University working to support the Aerospace Industry in Southern Ontario through multiple subsidy options. Employees and employers that support the aerospace sector in Southern Ontario benefit from the 90% cost subsidy across this year's offerings. The three single-day courses running in February, this reduces the cost for eligible members from $750 Cad + HST, to $75 Cad +  HST.
There is a seat limit on how many can benefit, ~20 participants per course.
Each course below is either a single day or 2 x ½ days, delivered over Zoom, and awards a McMaster Professional Micro-Credential Certificate.
Regular cost is $750 + HST
WIA Members Subsidized Cost is $75 + HST per person
Requirements:
Located in Southern Ontario.
Employees or Employers that work in or support the Aerospace Industry.
Each course website below has the learning objectives, agenda, brochure and an 8min video explainer webinar.
Maintenance Management Fundamentals
22-24 Feb 23 |2x ½ days | 0830- 12:00pm Est|
Target Audience: AME's, Aviation Team Leaders
Registration Link: www.mccmcmaster.ca/mmf
Operations Management Essentials
Serial 1 | 27 Feb 23 |1 Day | 0830- 4:45pm Est
Serial 2 | 27 Mar 23 |1 Day | 0830- 4:45pm Est
Target Audience: Frontline Managers up to Directors
Registration Link: www.mccmcmaster.ca/ome
Operations Leadership Essentials
28 Feb 23 |1 Day | 0830- 4:45pm Est
Target Audience: Frontline Managers up to Directors
Registration Link: www.mccmcmaster.ca/ole
Regular Cost: $750 Cad + HST
Women in Aerospace Canada Member Reduced Subsidized Cost: $75 Cad + HST