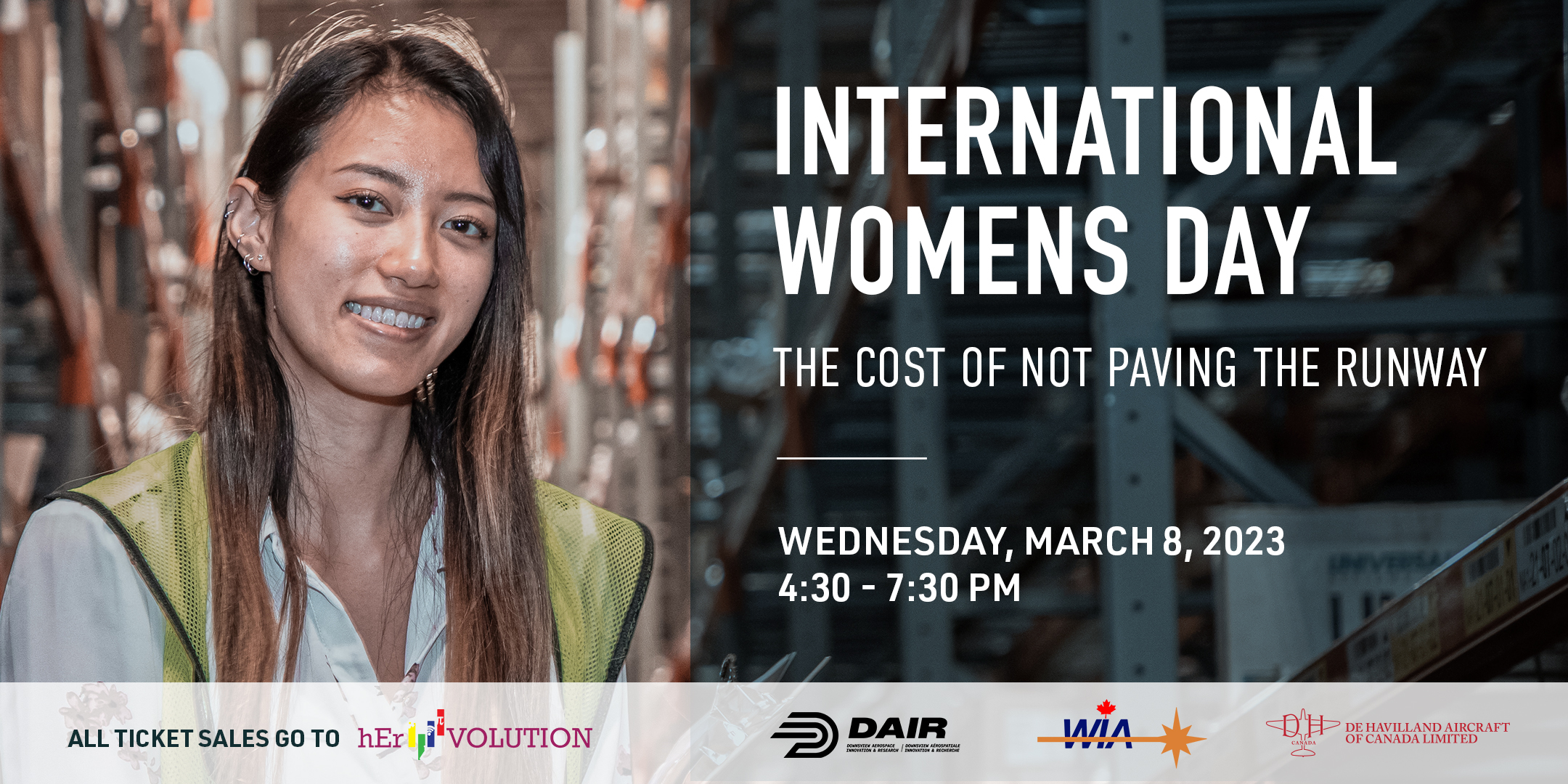 The Cost of Not Paving the Runway: Why Equity and Diversity are Important in Aerospace and Aviation.
On International Women's Day, Women in Aerospace (WIA) Canada  in partnership with Downsview Aerospace Innovation & Research (DAIR) and De Havilland Canada (DHC) are proud to announce our upcoming event "The Cost of Not Paving the Runway" to highlight the invaluable impact women have on our industry.
As we recognize the outstanding achievements of creative, pioneering women worldwide, it is essential to acknowledge how far we have come – and how much potential there is for further growth in advocating for greater gender equality.
We have made considerable progress through diversifying science, technology, engineering and math fields, but more can be done to support women in aerospace. By sharing success stories and talking openly about future objectives, our industry can create an environment that supports women, and in turn, scientific excellence in our industry.
Join WIA Canada, DAIR and DHC for this exciting event featuring:
Keynote Speaker
Dr. Wendy Cukier, Founder & Academic Director of the Diversity Institute, Academic Director of the Women Entrepreneurship Hub, and Research Lead of the Future Skills Centre
Panelists
Sandra Howell, Vice President Corporate Operations at De Havilland Aircraft of Canada,
Piyush Gandhi, Vice President, Operations and Business Development at Presage Group Inc.
Lieutenant-Colonel Melissa Reyes, MSc – Section Head – Intelligence, Surveillance and Reconnaissance Space Systems, Director General Air and Space Force Development / Canadian Armed Forces
Event details:
When: Wednesday, March 8th, 2023, 4:30 pm – 7:30 pm – In-person;  4:30 pm – 6:30 pm – Virtual
Where: In-person – The Bombardier Centre for Aerospace and Aviation at Centennial College, Downsview Campus (65 Carl Hall Rd., North York) OR Virtually (live stream linked provided)
Agenda: Welcome, Keynote, Panel, Q&A, Closing Remarks and Networking (in-person option for tour of Centennial College and Toronto Metropolitan University (Formerly Ryerson University) facilities on site)
Tickets are available for in-person attendance (limited number) or join us virtually!
If you have any questions about this event, please contact samantha.glover@dairhub.com or leigh.kras@wia-canada.org