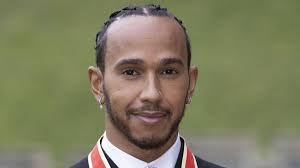 Powerful Beyond Measure: By Nancy Barber
On Purpose with Jay Shetty – Lewis Hamilton: Why you should stop chasing society's definition of success and how to be more intentional with your goals.
https://podcasts.apple.com/us/podcast/lewis-hamilton-on-why-you-should-stop-chasing-societys/id1450994021?i=1000596019763
Whether you are a Formula 1 fan or not, the name Sir Lewis Hamilton is likely a familiar name for you. The Greatest Formula 1 Driver of all time, the 7-TimeWorld Champion with 103 race wins, has faced tremendous adversity since he was a kid getting bullied in the playground. Lewis, at the age of 38, is so much larger than Formula 1, and an individual who inspires me daily. Many know Lewis's accomplishments on the track, but not necessarily his accomplishments off the track.
In his first podcast, he shares his many challenges of being the only black driver on the grid, and how he has channeled the adversity he faces not only into his performance on the track, but more importantly into driving diversity into the sport he loves. Lewis has found his purpose through creating a foundation Mission 44 to ensure underrepresented children have the support and education they need to be successful with the mission – Every young person should have the chance to succeed in education, work and life. His conversation on walking into the paddock as the only black driver resonates loudly with what many women face as they are the only woman to walk into the boardroom for years. He speaks about how lonely it is to be the only one, especially the first and only. Listen to this podcast, his life lessons, and how he continues find purpose everyday, I am sure it will inspire you too.
https://podcasts.apple.com/us/podcast/lewis-hamilton-on-why-you-should-stop-chasing-societys/id1450994021?i=1000596019763